Welcome!
Plant a Seed Promotional provides valuable advertising specialties and promotional products to virtually every industry.
Plant a Seed Promotional is an authorized dealer of Kaeser and Blair. Founded in 1894 and located in Batavia, Ohio, Kaeser and Blair has been in the top 25 in their industry for 15 years running.

The Promotional Products and Specialty Advertising business is a form of advertising where the advertising message is delivered on a useful item such as a T-shirt, coffee mug, calendar, pen or pencil. Browse our online resources and you will discover many exciting choices that will allow you to build your company's image.
Plant a Seed Promotional and Kaeser and Blair provide you with quality products at great prices. Almost all companies, schools, churches, and community organizations that are prosperous use some type of promotional product. Promotional products represent the most cost effective form of advertising available. Why? It's because all other types of advertising do not have a proven lasting impact.

Promotional advertising works. They pay for themselves over and over again. They are practical which means that they get used every day. Many items such as pens have many different owners. They get noticed time and time again. They find permanent homes on refrigerators, walls, desks and vehicles. They get worn, carried in pockets, displayed, taken to sporting events, used to promote school spirit, church outreach and are a big hit at community sponsored events. "39% of all people receiving a promotional product recall the name of the company imprinted on the item as long as 6 months later" (Schreber and Associates).
Featured Item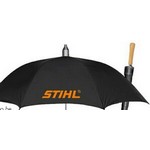 The Drip Catcher Fashion Auto Opening Um...
Fashionable 48" canopy arc with automatic opening feature. Unique folding sheath that acts as a drip catcher when umbrella is closed. Round metal shaft and straight wood handle. Unique product designe...
$12.99 - $15.99
Signature Showrooms